Winter gardens, beauty salons and cinemas: the new tendency in luxury residences for seniors.
From its foundations, every detail was thought to include people with disabilities or reduced mobility, and also to be dynamic and spacious, with spaces for relaxing and recreation, medical assistance and treatments, social and beauty areas. Everything about these residences, a trend that is imposed from the United States to Argentina.
Residences for older adults are designed for those who value their independence, but need some assistance with daily activities. While there are many types of accommodations that adapt to different levels of care needs, many also do so according to lifestyle preferences.
According to a study published by Statista, a portal that provides statistics and research services, among the population of older adults in the United States, about seven percent require personal care from other person, often in terms of meal preparation, transportation, and assistance with personal hygiene.
In response to the urgent need for housing for the elderly, many housing organizations for the elderly have established communities or residences and homes. In the private sector, rents seem extremely high, but it is important to keep in mind that, among other things, the amount includes 24-hour medical attention and access to qualified medical personnel.
The "Senior Living" is a concept that was born in the United States at the end of the 70s, but it wasn't until de 90's that it has reached its strongest expansion. The housing complexes are designed especially for older people seeking to not only stay active socially, but also mentally and physically. "Undoubtedly, luxury residences for older adults will become a growing trend", the architect Leandro Brotsky told in an interview with Infobae.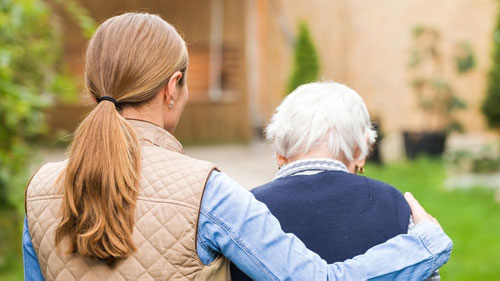 A new concept in our country, although already very developed in US, that offers apartments designed in all its details, to meet the needs of older adults who value a full and active life. The attributes and differential advantages of the communities are easy to appreciate giving a quick visit to its facilities: wide corridors, higher ceilings in the apartments, standard elevator and large elevator in each building, heated pool, important gardens and common areas, among others.
One of the first premium residences in Buenos Aires was the living center «The Senior Home», created by Jorge Fainzaig, one of the founders of Ledor Vador –best known home within the Jewish community- and is currently run by Hernán Fainzaig. From its foundations, every detail was thought to include people with disabilities or reduced mobility, and also to be dynamic and spacious, with spaces for relaxing and recreation, medical assistance and treatments, social and beauty areas.
The building characteristics and the equipment follow premium quality and excellence criteria, which differentiate these assisted living centers from what currently exists in the market. In luxury residences each room is designed as an independent apartment, where residents can have privacy or receive family members.
"The place has a winter garden; for those with reduced mobility, there is a dining room in each floor; a rehabilitation clinic inside the building; a movie theater and a beauty salon", Jorge Fainzaig, executive director of The Senior Home, revealed to Infobae.
Another example of this type of residences is "Antares, Senior Living" in Nordelta. The complex, unique for its number of amenities and services, is located a few meters from the shopping and gastronomic center, a cinema, and Nordelta Medical Center. For the organization of the building furniture, Feng Shui techniques were used so that each space is in constant harmony.
In the country, Senior Living is the result of extensive research and development carried out by interdisciplinary teams of residential professionals, prestigious gerontologists, psychologists, nutritionists, kinesiologists, engineers, and architecture firms who have adopted and adapted the most developed and successful models in the world to local needs and established the best way to meet the requirements of each resident, both in terms of professional and personal care, as accommodation and leisure amenities.
The ground floor in The Senior Home has a spacious reception area, bar, winter garden and a 3,280 m2 garden, which provides the perfect environment for an atmosphere of relax, serenity and healthy contact with sunlight, generating a complete visual.
"The winter garden, continued the architect, has an area of 85 × 98 feet, a fountain, and two areas for recreation and rest formed by two roundabouts or mechanical structures. These spaces are essential for residents to develop within their limitations in a relaxing "zen" atmosphere to enjoy nature and music".
In the 8th floor, which has a beautiful view to the front as well as to the back, there is a cinema, coffee-shop, social games room and multipurpose room, private use room (previous permission required), big room for events, library with computer area, important kinesiological center with state-of-the-art equipment, massage cabinets, recovery center with specially designed programs and golf simulator.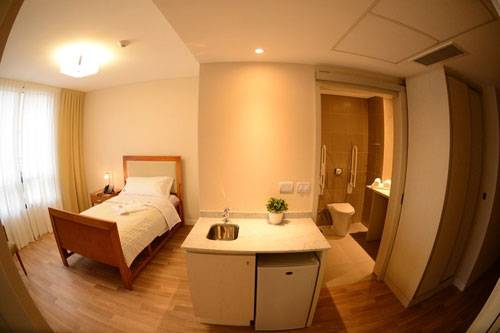 The furniture, designed by specialized architects, is appropriate for the needs of the elderly, without losing style and with a pleasant aesthetic. The accessibility, with the adequate installation in order to avoid architectural barriers, allows the necessary autonomy in this vulnerable stage of life.
"After traveling the world, I realized that in Argentina the problem is that when aging the elderly is tormented by fears and insecurities. These institutions are the ones that offer them the possibility to socially coexist with people in the same situation. If all grew in that sense, in the long run the geriatric care would be worthy and desired", concluded Fainzaig.