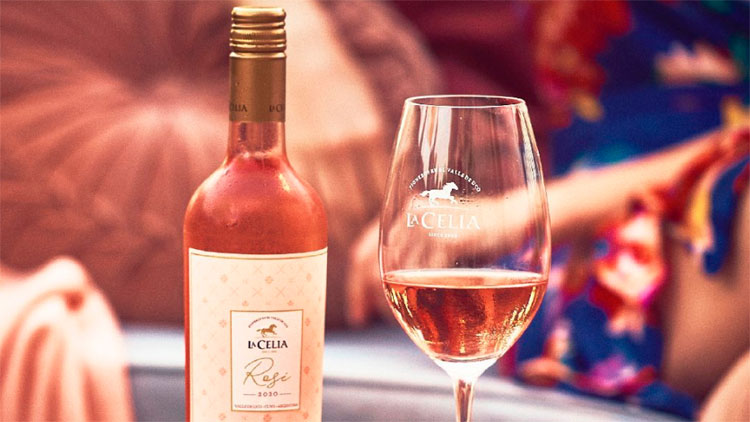 With a soft and captivating pink, the winery launches an elegant and fresh wine that honors the Uco Valley.
Buenos Aires, september 2020, -. La Celia, a pioneer winery in the Uco Valley region, one of the premium areas of the wine industry, located in the province of Mendoza, presents its new wine "La Celia Rosé".
It is a fresh, young and elegant wine, with 80% Pinot Noir and 20% Pinot Grigio, with a delicate aroma of red and floral fruits. On the palate, it feels vibrant, fresh, with a persistent finish; ideal as an aperitif or to consume with starters, white meats, seafood, fish and soft cheeses.
With this new wine, La Celia, responds to a growing trend of Argentine wines in search of freshness and refinement. Hand in hand with its chief oenologist Andrea Ferreyra, it innovates in new flavors that reflect the authenticity of the origin of this wine: an extraordinary terroir, such as the Uco Valley. Celia Rosé is a wine that manages to balance unique textures, perceptible freshness and an aromatic characteristic that provides a great complexity.
"We are very happy at La Celia to add a Rosé wine to the portfolio, it is a point of balance between our reds and whites and is made up of two very fine varieties such as Pinot Noir and Pinot Grigio, which develop very well in cooler regions, like ours in Valle de Uco. With an aromatic combination of red fruits and flowers, Celia Rosé bears elegance and refinement, which is the hallmark of our wines" explains Andrea Ferreyra, Head of Oenology at the winery.
The vision of its founder Eugenio Bustos, pioneer in cultivating the Malbec vine in the region, continues active through the constant production of wines of the highest quality, recognized in the world for the qualities of its unique terroir of the Uco Valley and for the passion of its makers.
For more information visit https://lacelia.com.ar // IG: @lacelia.arg // FB: @laceliawinesAR
About La Celia
Finca La Celia was founded in 1890 and is the oldest winery in the region. Its founder Eugenio Bustos was the first to plant Malbec in the Uco Valley (one of the best Argentine areas for the production of Premium wines). With a high desert continental climate, waters from the Tunuyan River and Nevado de Piquenes absorbing minerals that are later deposited on the farm. The soils of La Celia have characteristics of mountain, calcareous and alluvial soils. Its wines are internationally recognized with excellent scores in its four exclusive lines: Reserva, Pioneer, Elite and Heritage.
About CCU
CCU is a multi-category beverage company, with operations in Chile, Argentina, Bolivia, Colombia, Paraguay, Peru and Uruguay.
CCU Argentina (www.ccu.com.ar) is one of the most important beverage companies in the country, the second largest in the Argentine beer market, a leader in the cider market and a relevant player in spirits and wines.
Its brand portfolio includes Schneider, Heineken, Miller, Imperial, Amstel, Sol, Grolsch, Warsteiner, Santa Fe, Salta, Córdoba, Palermo, Bieckert, Kunstmann and Blue Moon beers; the Real, La Victoria, and Sáenz Briones 1888 ciders; El Abuelo liqueurs; the La Celia wines; the piscos Mistral and Control C.
Inspired by responsibly rewarding its consumers on all consumption occasions, with high quality brands, CCU Argentina employs approximately 1,700 people; owns 5 industrial plants; 6 own distribution centers and works with a network of more than 170 distributors.
About Andrea Ferreyra
Andrea Ferreyra graduated as a winemaker from the Juan Agustín Maza University in Mendoza, where she also attended a postgraduate degree on Quality Management from Vineyard to Wine. In 2006 she began working for VSPT Group, as part of the enology team at La Celia. Since 2012 she is in charge of leading the area, becoming a benchmark in the industry. She was awarded as the best female oenologist in the 5th edition of the SAKURA "Japan Women's Wine Awards" contest, the highest award given by the top international wine makers.